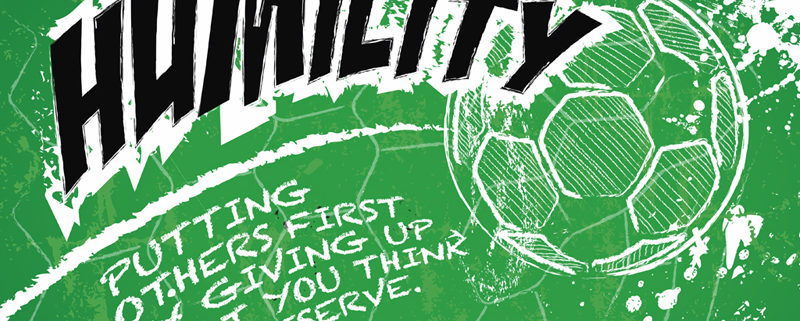 Humility is putting others first by giving up what you think you deserve.
Memory Verse:  "Don't do anything only to get ahead. Don't do it because you are proud. Instead, be humble. Value others more than yourselves."  Philippians 2:3, NIrV
April 2:  We start our discussion about humility in John 13:1-17 where we find Jesus and His disciples celebrating Passover in the upper room. Jesus wanted to give His disciples an example of what it meant to be a servant leader. With humility, Jesus washed His disciples' feet. He served them by doing the job of a servant.
Bottom Line: I can put others first by serving them. God Time Card – Week 1
April 9: In Matthew 26:36-56, we take a look at the very garden where Jesus showed an unbelievable understanding of how important it was to put the will of the Father ahead of His own. Jesus knew why He came to earth. While He prayed for His Father to make another way, ultimately Jesus knew that He had to let go of what He wanted for the sake of saving the world from sin.
Bottom Line:  I can put others first by letting go of what I want. God Time Card – Week 2
April 16: We're excited to celebrate Easter as we spend time in John 18:12–20:23. We'll start with Jesus' trial and end with celebrating the resurrection. The religious leaders are up in arms because Jesus has claimed to be God. Doesn't matter that it's TRUE; they're still ready to dish out the ultimate punishment. And Jesus chose to give up everything and take that punishment, so that no one else has to.
Bottom Line: I can put others first because Jesus put me first. God Time Card – Week 3
April 23:  Next, we head to Matthew 28:16-20. Now that Jesus was alive, the disciples would have thought that now it was time for Jesus to become king, but that wasn't God's plan. Jesus gave them a new job: go and tell everyone about Jesus and be like Jesus was to the rest of the world.   
Bottom Line: I can put others first by doing what Jesus said. God Time Card – Week 4
April 30:  Finally, we'll take a closer look at the passage where we find our memory verse. In Philippians 2:3-8, Paul tells us how Jesus is the ultimate example of humility. He gave up everything to come to earth and save us.
Bottom Line: Put others first. God Time Card – Week 5
http://crosspointweb.org/wp-content/uploads/2017/04/17Apr_Standard_Humility.jpg
600
800
xptadmin
http://crosspointweb.org/wp-content/uploads/2014/02/XPT2014web2.png
xptadmin
2017-04-01 21:08:24
2017-04-01 21:08:24
UpStreet - April 2017